THE BEST NEW WAY TO CUT, CHOP, SLICE, AND DICE!

Whether you are cutting, chopping, slicing, or dicing, the ROLLEN™ will help you effortlessly achieve that. It makes cutting so easy that you'll never use an ordinary
knife again!
Revolutionary Round Blade
This blade rotates 360 degrees so you can get all of your cutting done with ease! This blade is sharp and precise cutting through food in no time!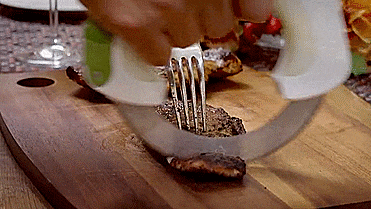 ROLLEN™ Kitchen Knife Vs. Regular Knives
We've all used regular kitchen knives, they hit countertops, cutting boards, and are hard to control. Not only that, but they are frankly unsafe. However, with the ROLLEN™ blades stay in contact with the food at all times! It cuts as you roll forwards and backward. And that's gonna save you a ton of time in the kitchen. "It's lightweight, it slices, it dices and it cuts your time in half"
Provides Maximum Control
Using sharp knives is very dangerous especially if you are using regular kitchen knives. But with the ROLLEN™, the handle is at the lop allowing you to hold at the lop of the blade.
So you can be incredibly precise slice after slice! This will also be less demanding on your joints and muscles while significantly reducing the likelihood of you cutting yourself. "I have arthritis and when I use the ROLLEN™ it's not challenging, it's not hurting my wrist at all!"
Dishwasher Safe
Cutting is easy with the ROLLEN™, but so is cleaning. Just put that in the dishwasher with the rest of your dishes and it will come out sparkling clean without getting damaged!
Frequently Asked Questions
Q: How do I clean the inside of the handle?
A: The ROLLEN™ comes apart very easily. This allows
for your ta clean the whale blade and the inside of the
handle.

Q: How do I sharpen the ROLLEN™?
A: You can sharpen the ROLLEN™ as you would any
normal knife because the blade easily comes out

Q: Does the ROLLEN™ come with a blade cover?
A: Yes, the ROLLEN™ does come with a blade cover!
READY TO CHOP AND ROLL IN THE KITCHEN?
I have not tried the knife yet, I hope that it will work well. I recommend the seller, thank you.
ROLLEN™ Rolling Circular Knife