PRODUCT DESCRIPTION
Whether you're pregnant, nursing, recovering from an injury, or suffer from hip/back pain, fibromyalgia, or sciatica, the new Pregnancy Pillow has got you covered! The unique U-shape design provides the perfect balance between comfort & support for your back, hips, legs, belly, and head.

Reasons this will change your life:
✅Flexible & Versatile – Pillow position can be changed easily in various positions, such as baby nursing, watching TV, or reading.
✅Takes the weight off Baby Bump – Feel snug and sleepy again. A must-have pillow to help to sleep.
✅Provides full back support – with a wider surface performance at the top to support your back entirely.
✅Relief leg swelling – The unique design of the pillow reduces leg soreness if you are sitting for a long time.
✅Super Soft Material – filled with a polyfill blend that is designed to provide soft comfort with increased support density as you apply weight to it.
✅Machine Washable Cover – pillow cover is zipper removable and machine washable for quick and easy cleaning.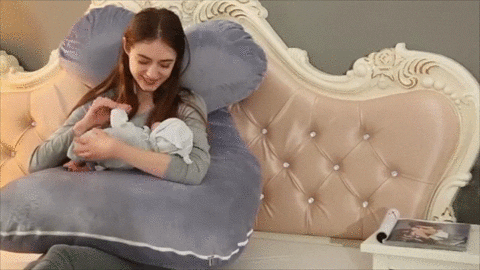 SLEEP DEEPLY THROUGH THE NIGHT

The best pregnancy U body pillow offers head, neck, shoulder, leg, and ankle support, and relieves fibromyalgia, reflux, congestion, ankle pain, and sciatica as a full-body pregnancy U pillow which is identical with other pregnancy U body pillow.
MULTIPURPOSE PREGNANCY PILLOW
The U-shaped body pillow is not only a maternity pillow for sleeping designed for pregnant women or breastfeeding mothers compared to other full-body pregnancy pillows as a Body pillow, but also a full body pillow for adults suffering from hip pain, fibromyalgia, sciatica, poor posture, athletes, people in physical therapy or recovering from an injury, and anyone looking to get better sleep.
100% HYPOALLERGENIC PP COTTON
This unique Bionic Polyethylene filling(7D PP COTTON PLUS 15D PP COTTON) without smelling of the full body pregnancy pillow provides comfort for sleeping and retains fluffiness for better performance and longer use like boyfriend pillow, which is extra soft and of high density.
COMFORT U-SHAPE
Entire comfort and total U body pillows. The oversize U-shaped Pillow for Pregnant Women is long enough for you to stretch out and support your body. The inner curves contours while aligning your hips for neutral joint positioning.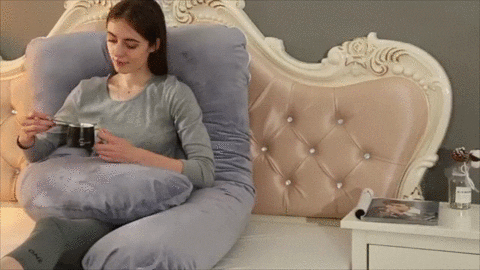 SPECIFICATION:

Filling: 100% Polyester Fiber 

Material: 100% Cotton

Shape: U-Shape

Weight: 1-1.5 kg